Check me out.  No, really… check me out:
Right Here.  No really, click on this line right here.
Now I know that this is going to immediately look like crazy sauce and terrify you – DON'T FREAK OUT!!!  It's just a dick pile of data and a motion chart.  First thing is first – click the "Chart" tab at the top of the screen.  You can check out the data in there, if that's your dig… but I would advise against it.  The whole point of a chart is to more easily make sense of data.  So like the screenshot below says, just click on the "Chart" tab.  Slut.

When you're actually in the chart you're ready for the fun.  It should default to what I think is the best way to view this data.  Each ball represents a sex act or otherwise thing that could happen during a sexual encounter.  The balls will rise or lower over time depending upon how intense I considered the act.  The will move left to right depending on the chance of them taking place at a given time.  They will change color depending upon how much I liked it and they will grow or shrink according to how much the lady liked it (or rather – how much I thought it seemed like she liked it.  I'm still not psychic.  Working on it).  The "Play Button" and slidy bar thing next to it are where the magic happens.  That's the timeline, which makes the various data points (balls) change depending on what part of the encounter they took place in.  Important to note – if you hover your mouse cursor over a ball, the chart will display the name of the activity over it and some other data on the sides.  Give it a try.  You can which data set is represented by each axis, color, and size as you wish.  I find that Y = Intensity, X = Chance of Activity, Color = My Observed Enjoyment, and Size = My Perception of Her Observable Enjoyment works best, but hey – knock yourself out.  The Timeline thing will always represent time, so I don't see a point in changing anything else to time.  You might.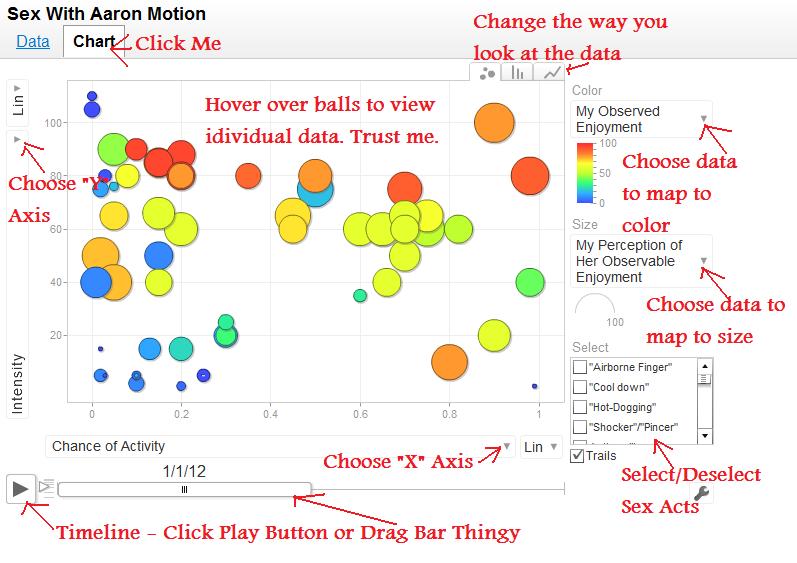 A little something about this data.  The data in this chart represents the activities that could take place during a "hook-up" or otherwise get together involving sex over a 24-hour period.  It took some doing to get it working just right, and all of the compiling/recompiling of data was a bit much for me.  As such, the data on this chart is not original data.  I'm debating with myself whether or not I will actually share that, as some of it is a bit intimate.  Even for me.  Chance are that I'll share a slightly cleaned up version, but no promises.  Anyway, the data here is a bit fuzzy and has been rounded up and around a bit.  I needed the chart to work and get pretty damn close to what I meant, and some of the actual data would end up fucking it all up.  So some things a fudged.  Things like "1" is often a placeholder – look at chance of "Dry-Humping" taking place twelve hours into the encounter.  I mean, it could happen, so it shouldn't be "0", but it hasn't happened since I've started logging it.  I feel like I should be giving a seminar on this…
tl;dr – No, really, you should read this one or at least spend some major time with this chart.
Now fiddle around with this like one might fiddle around with their bits and pieces.  Feel free to ask me about any of this crazy bullshit.
edit – a few minutes in and already questions.  If you have it set up the way described above it's pretty easy to follow.  I think.  If the dot is blue, it means I don't much like it.  Red means that I love it.  Small ones don't tend to be enjoyed by ladies, big ones do (Ha!… oh, I just made myself sad with teeny weeny).  All the way to the right means it's pretty likely to happen, all the way to the left means it ain't.  All the way to the top means I consider it rather intense, all the way to the bottom means it is pretty tame and/or calm.  Some things lose intensity over time.  Some become more likely.  Some are more fun the more we've been around each other.  Other times – like if we're dry-humping at fucking hour 18 – are the fucking worst.