I'm looking into making some changes here.  I'll be doing some experimenting with the layout of the site this weekend.  I might even change the template.  I know exactly how I want it to looks, but I'm not sure I can actually pull it off with the content that I have.  I don't have a mirror site to play around with, so I'm not going to know until I make the change.  So heads up – if you try to check in on my blog this weekend,  there is a chance it might be all jacked up.  I think you can still check out my posts by googling the site and clicking on the "cached site" link, or whatever it's called.  Or whatever.  I mean, it should be fine by Monday morning.
I'm also trying to figure out a way that I can get more pictures up on this site.  I'll start taking more photos, sure, but I had a certain feel that I was planning for my blog with the whole stick figures, crummy drawing, spreadsheets stuff.  Oh, and for those that were looking forward to the spreadsheets thing – sorry that hasn't really happened.  Some of the stuff I said I was going to put up probably won't.  That sex chart, however, that's coming.  Oh yeah.  All over that bitches back.  Anyway, I want more stuff for eye-lookins'.  I'm testing out some ways that would make it easier on me to actually do.  I often end up posting from work, on the road, or otherwise from some place that I don't have my scanner around.  Here are some tests for my shitty drawlings.
Hmm.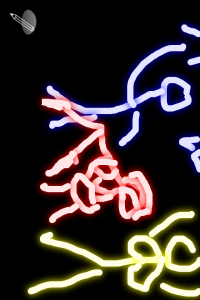 Pretty rough looking.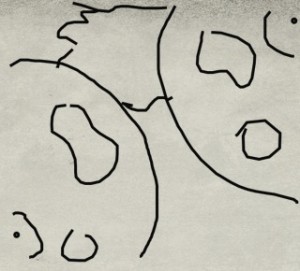 Nope.  It's jizz on some boobs.  The stuff in the middle is a puddle of it.  I'd say that app is "A Bingo!", wouldn't you?
tl;dr – Going to update the look and feel, want to do pictures more frequently, tittyfucking is fun (implied).
I wish more journalists would call people on their shit like Pierce Morgan.  He might actually get me back on watching broadcast news(ish) programs.