Most of them involve fairly trivial aspects of my life.  Some of them are considerably more important.  I mentioned last Monday that I want to choose a color scheme for my place.  I've often debated with myself on whether or not to paint, upgrade, or do any work other than required maintenance to my place.  There are a lot of pros and cons for both sides.  As it stands right now, I'm still kind of in the middle, but I'm leaning closer to "do it".  I'm more around, "decide how I would really want it, price everything out, choose a few things that are worth it and I can budget for".  This goes for everything in that condo.
Oh, right, I should explain what my place is like.  It's a two bedroom, one bathroom condo.  Relatively small.  For the location and price, I suppose it's actually pretty big.  On the other hand, the amount I paid for my place here in Maryland would land me a pretty nice town home in a lot of other  places.  There are a few spots that I could get have gotten a single family home for my price.  I'm getting off track again.  It's a two bed… you know what?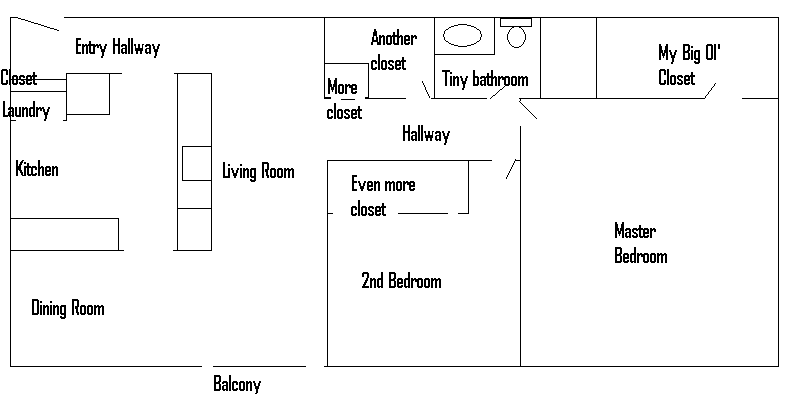 There.  That's about how my place is laid out.  It is fully furnished, but I'm not married to any of the furnishings.  My couch, love seat, and chair are way nicer than I should really be able to afford, so I'll likely keep those.  I'm getting a new bed because of the whole new mattress thing that I mentioned during the "Scum Week" posts.  The walls are all contractor white.  The only trim is the bottom molding – also white.  The bathroom is pretty modern and doesn't really need anything.  The kitchen is half-new.  The cabinets, built-in microwave, and stove are new.  Stove and microjunts are white.  The fridge, dishwasher, clothes washer, and clothes dryer are all really old and that awful '70s yellow.  No, wait… I think the fridge is cream… Oh, also my washer and dryer are in my kitchen.  The counter tops are some standard, light, fake marble bullshit, the cabinets are cream with oakish trim.  The kitchen floor is a shitty yellow vinyl thing.  The bathroom floor some shitty yellow '70s tile – same with the tile around bath.  It's awful.  The rest of the place is white carpet.
I don't plan to stay here for a terribly long time but it's less temporary than any of my previous living arrangements.  I'd kind of like my place to be nicer for the time being.  Additionally, I'd like to increase my resale value , or at least my resale potential.  On the second point, I suppose keeping it contractor white might be a good idea.  I know that there are conflicting views on the subject, but I also know that I bought my place because it wasn't all junked up with stupid colors.  I saw so fucking many Canary Yellows and Sea-Foam greens.  That might be cool for you and your whole young family situation going on, but I'm a single man who's trying to be presentable and classy as fuck.  I don't want Vibrant Pink and I can't suffer having any kind of floral or animal print wallpaper or curtains.  I know a lot of that shit is in these days, but you can go fuck yourself with your stupid ironic granny prints.
Here's what I do like – clean, basic, uncluttered.  Sleek.  Pussy-magnet.  I don't know what that last one means, but it means something.  More specifically, I like dark colors, some "earth-tones", and a handful of lighter colors as trim.  Not all together, mind you.  I think the green on one wall, blue on another thing looks pretty cool, but it ain't for me.  Right now I'm thinking a nice dark color like espresso with white trim in my kitchen.  Maybe a pewter for my bathroom and maybe the same for the living room.  No idea what to do with the two hallways, my dining room, my bedroom, or the second bedroom.
What I really want to do is knock done the wall between my kitchen and dining room and combine the two rooms into one big kitchen/dining room space.  The only dividing thing between them would be some kind of breakfast nook/island thing.  I don't know if I can do that, though.  Shit costs money and I'm in a condo.  I may own the place, but there are rules and you regulations on shit like that.  I'd probably have to get approval or some shit.
This has to be the lamest shit I've posted here yet.
tl;dr – I think I'm going to paint my interior, but I don't know.  Fuckin' skip this one, it's boring as fuck.
Suck a dick.