So I was explaining to someone how some of my sexual encounters have gone and she had questions.  A shitload of questions.  Probably her top question was what happens during the longer visits.  I have to admit, that sounds like an interesting thing to explain.  It's also a complicated subject, but that's okay.  We have time, and this gives me an excuse to go ahead and finish up some the posts I've been working on and string them together for a theme week.  So let's break down the crazy with some sex charts and infographics.  We'll start out a little mild and ramp it up over the next few days.
While you could define sex as having two people simply combine their genitals in a standard fashion until an orgasm is achieved, that's not how I view a total sexual encounter.  While it may be so in a book definition, I would argue that the penis and the vagina are not our only sexual organs.  Even our hands can do important things in bed, and it's time we gave them credit.  I would assert that several sexual acts can be simplified as taking a part from one person and intimately combining it with a part from another person.  This works with same sex couples, too, but I'm not very familiar with those workings outside of lesbian porn.  That probably means that I really don't know anything about it, but that's not the point of today's chart.  Today's chart is a simplified combo tool for you.  One part plus another part makes a sex act.  If "A" is cock and "F" is cooter, then "A + F = AF" where "AF" is boring standard intercourse.
You can use this to help understand dirty terminology that is new to you.  More importantly, feel free to take a copy into the bedroom and give a few of these a try for yourself.
tl;dr – Sex charts! This one's about gettin' your chocolate in my peanut butter.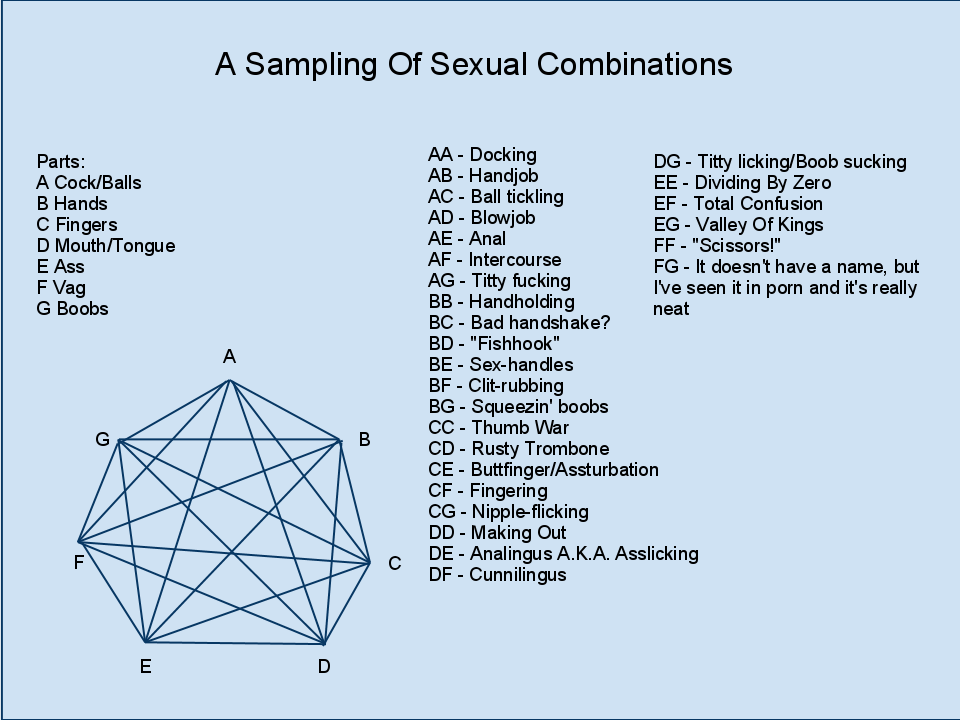 Sex Charts Theme Week continues tomorrow with another great chart on booty-butts.  Have a favorite?  Something on the chart you hate?  Have a combo that I missed?  Key me into it so I can add it to my roster.