Back to my "deep" thoughts for the rest of this week.  Yeah, alright, here's a another damn breakfast: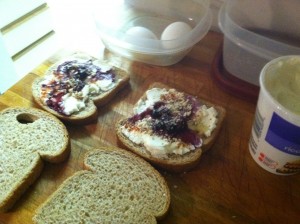 You know what?  I'm just gunna tell you what it is now.  It's a stuffed French Toast.  I sometimes make extra so I can freeze it and have an easy, healthy, quickassed breakfast on standby.
Ingredients for one stuffed thing:
2 sliced of bread
1 tbsp ricotta, cottage, or cream cheese (give or take)
1 tsp honey
1 tsp sliced/crushed almonds
1/2 c fruit of your choice
1 egg
1 tbsp milk
1/2 tsp cinnamon
1/2 tsp nutmeg
1 tsp cayenne powder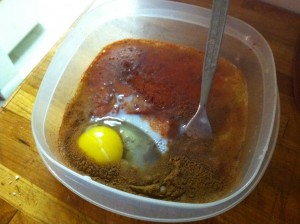 Smear your cheese on one side of your bread, drizzle on the honey, and put your nuts on it.  I also like to slip some of my berries in there… your choice.  Close it up with the other bread piece.  In a container just wide and deep enough to make this happen, combine that egg, the milk, and those funky spices.  Dip your bread thing in your egg junk… c'mon, you've made French Toast before, right?  Get a pan to medium heat, lube it up good, and plop your egged-up-bread-thing in.  Cook until golden brown (couple minutes) and flip.  Cook until that side is golden brown.  Make out with some Emo chicks while removing the fantastic French Stuft Slut (let's call it…?), and let it rest on the plate for a minute or so.
It should look something like this: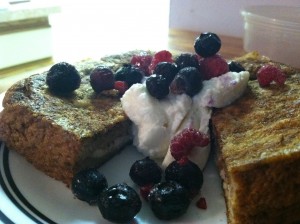 This is another one of those recipes that you should fuck around with and make your own.  I mean, the cream cheese version is fuckin' super tasty but the calories climb and shit.  I once made this with lox in it, which was all types of awesome.  I'll bet that peanut butter and bananas inside would rock.  I also feel like sour cream and herbs might be nice.  Oh, and the cayenne pepper is something that I like to do to a lot of stuff.  A little spice is nice.  A little heat is sweet.  A little burn is… I don't know, something.
I also like to whip up several breakfast sandwiches or burritos in one large batch and freeze them from time to time.  Aside from the obvious reasons (health and price), they also tend to be tastier and more convenient than getting them at a fast food joint.  If you have a microwave in your office, this is the perfect solution to those, "Oh, shit, what time is it?" mornings.
tl;dr – Stuff it, bitches.
Listen guys, I'll be back to doing/saying stupid shit with the next post.